Mister Midas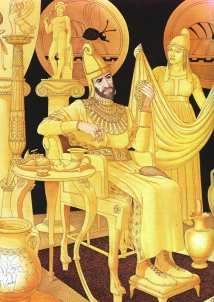 As Silenus was dragged through town, King Midas saw him and restored him to Bacchus since Silenus was Bacchus' surrogate father.
Bacchus was overjoyed and told Midas he would grant any wish he desired.

Greedy Midas quickly answered, 'Let whatever I touch become gold.' Although Bacchus knew this was a bad idea he decided to let the ignorant Midas discover it on his own.
Midas eagerly tried out his new power. A tree brach, upon his touch, transformed, sparkled, glistened, broke off and fell to the ground, a skinny stick of gold. Midas brushed his hand over the grass and it shimmered as slivers of gold. He began to worry and rushed home.
He picked up an apple and it doubled its weight, a round unedible lump of gold. He grabbed a wine glass and brought it to his lips, but the gold sludge wine couldn't quench his thirst.
He prayed to Bacchus, 'take back my foolish wish, I realize now that nothing can live in a world of gold.'
Feeling sorry for him, Bacchus reversed the wish and told him he must wash in the river for the reversal to be complete.
After washing, ashamed Midas fled to the mountains for solitude.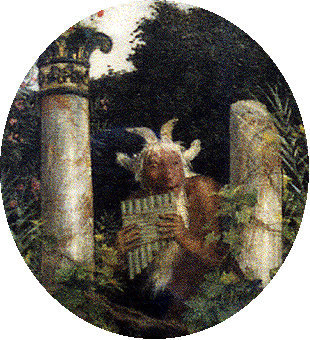 Pan was piping in the mountains, showing off for the local nymphs. He falsely told them that Apollo had stolen his tunes.
Apollo discovered Pan's hubris remark and challenged him to a competition to determine the real musician. The mountain was the judge.
Pan played first, a meager measure but music none the least. Then Apollo played, his magnificent music engulfed the woods and mesmerized the listeners. Even a fool would have known he was the master.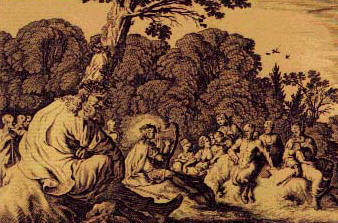 The mountain judged that Apollo was indeed superior; even Pan acknowledged Apollo as the master.
But stupid Midas, who'd been listening, burst out from the bushes and declared, 'the verdict is ignorant, foolish, and wrong. Pan is the better musician.'
Apollo, hearing this mortal ridicule his ability, gave a stern, angry look and pointed his plectrum at Midas's head. Instantly Midas's ears transformed into long, hairy ass's ears. He reached up and fondled his new ears. Horrified, he shrieked and darted off through the woods.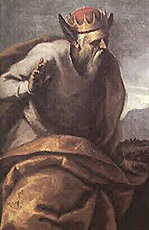 To hide his hideous appearance, Midas carefully wrapped his head in a turban, making sure to conceal his ears entirely.
But a king needs a barber. When Midas visited his barber he forced him to keep his ears secret. The barber finished cutting Midas's hair, taking extra caution around the tender ass's ears. Midas rewrapped his turban, double-checked the barber's secrecy, and left.
What is the use of a secret if not to be revealed? The barber was giddy with his secret knowledge, bursting to let the world know, 'Midas has ass's ears.'
Finally, when the barber couldn't take it anymore, he found hole in the earth, kneeled down and whispered the secret into the earth, 'Midas has ass's ears, Midas has ass's ears!' He quickly covered the hole with a large boulder to keep the secret safely below ground.
Yet the earth needs relief too, and when the winds began to blow, the secret seeped up into the reeds, and grass. The wind continued and the secret, whispered from the reeds, was revealed to the entire population, 'Midas has ass's ears, Midas has ass's ears!'
Still, to this day, if you listen extra carefully on an extra windy day, you can hear the grass, and especially reeds, continue to whisper, Midas has ass's ears, Midas has ass's earssss'. The End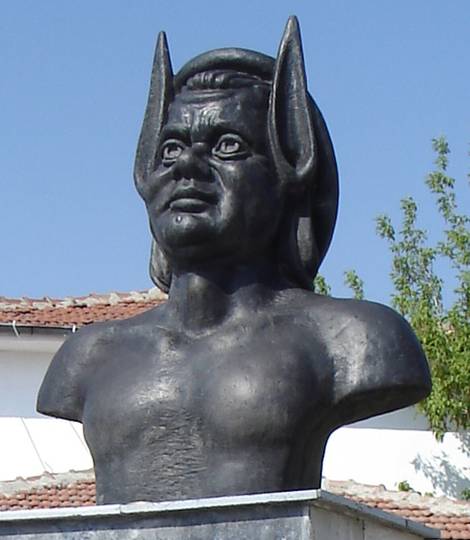 Posted by bmcycleski at 7:53 PM MDT
Updated: Sunday, 29 March 2009 8:50 PM MDT