A Day with Peter Matthiessen
Last Thursday I was lucky enough to be a part of the Peter Matthiessen class, and then have front row seats at his lecture at the Emerson. This was the first time I'd ever met an author, got their signature, and had the opportunity to ask questions and partake in a discussion. And Peter Matthiessen is a remarkable author who's won the National Book Award twice, most recently for Shadow Country. Meeting Mr. Matthiessen was everything I expected and more. For writing an amazingly gruesome, bloody account of Watson, Peter was nothing at all like the character who'd been the obsession of his life for roughly 30 years. Matthiessen was charismatic, generous, entertaining, funny, inspiring, and simply a great man; so actually, in a way, Matthiessen was similar to Watson but without the violence.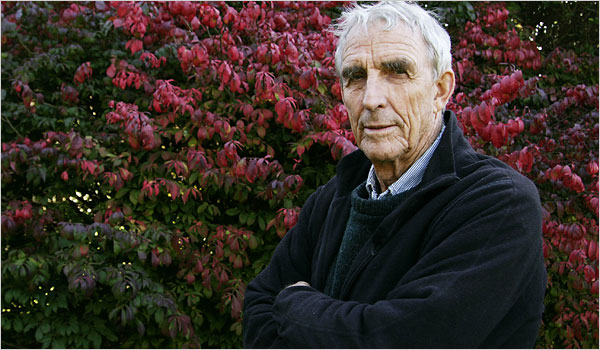 We discussed a number of topics in the class thursday afternoon. From environmental issues to race issues, to critics, research, sense of place, and the real Edgar Watson behind the fictional one, it was an awesome round-table discussion. Peter was very humble, modest, and generous while sharing his knowledge and feelings towards often controversial topics. However, all his answers and stories were extremely humane and I could not help but agree with them.
I asked him about the quote I have been somewhat obsessed over, which he said he used the quotes to help exaggerate the ambiguousness of certain characters. Asked about environmental issues he talked about Exxon Mobile's devastating use of the land, and how it will be the next generation of young people, us, the students, to step up and fight to protect the environment. On the topic of race, Matthiessen bought up its absurdity, especially when people 'all used to be dung colored.' He talked a little about Watson alcoholism, and said that if he wasn't a workaholic he would be an alcoholic. His write-aholoic nature keeps him from wallowing in the dregs of alcohol - although he did mention in the class and at the lecture how he loves a good dry martini!
But Matthiessen's drive to write was thoroughly realized when he said that 'he dies for a black page,' unlike many writers who can get lost in a blank page. My favorite quote of the entire evening by Peter arrived in the discussion of place, a character's, and person's, sense of place. He said that a person doesn't walk off the page, but rather that 'a person walks out of the landscape.' This couldn't be anymore true and relevant in the grand scheme of literature, especially classical literature. This was somewhat reflected in what he said about gravestones, and how they are fresh, fresh with facts and dates on the deceased. Gravestones are inherently true and so something that can always be trusted and believed. Cemeteries and gravestones are a very important part of Shadow Country.
At the Emerson I got the opportunity to "guard" a set of doors near the book signing table. This task was actually rather meager as it seemed that the coordinator of the event just found something for me to do on a whim. And in the end Sutter and I helped volunteer by drinking some tasty hefeweizen beer and engaging in some lively conversation with the other people attending the event. But from my post by the signing table I was very intrigued at how excited, passionate, and even nervous some people where to meet Matthiessen. Many people brought multiple books for him to sign, exchanged Buddhist bows, shared personal stories, and mainly had a very short but intense, intimate moment with Peter. This goes to show how powerful literature can be. One man even had a short piece of writing for Matthiessen to read, which upon finishing gave him a good laugh, and he showed Peter a small llama or camel figurine that looked authentic and must have been related to Buddhism in some way. For all this attention, sometimes a little excessive, Peter Matthiessen was extremely courteous and generous, which goes to show how amazing he is as a writer and person.
Throughout the evening I had a gigantic smile plastered to my face. It was a thoroughly enlightening and entertaining day, mirrored even more by the snowy weather. Peter Matthiessen is definitely one of the most natural story tellers I've heard, another being a wise, young, handsome professor at Montana State University. Any question an audience member asked Matthiessen resulted in a lively, thoughtful, often hilarious story for an answer. Matthiessen himself seemed to be having a great time, cracking jokes and revealing his massively contagious smile.
Posted by bmcycleski at 7:09 PM MDT
Updated: Saturday, 25 April 2009 8:19 PM MDT